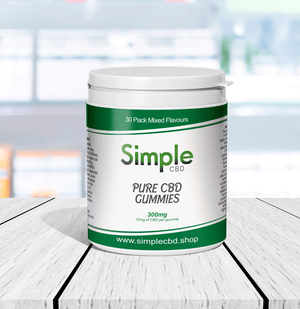 REALTALK RECCOMENDS CBD Gummies 10mg per Gummy, 30 per pot
销售价格 价格 £19.99 常规价格 £26.99 单价 / 单价
CBD Gummies 10mg per Gummy, 30 per pot
Our gummies are supplied in snap lock tubs of 30 with mixed flavours . Pineapple, Raspberry, Orange, Lemon, Strawberry.
They are a great way to get your daily intake of cbd or for a top up throughout the day. 
Suggested use:
Adults over 18 - 2 gummies twice daily for a period of 2 weeks. This will allow your body to trigger your endocannabinoid system adapting your body to CBD uptake, You can increase this to 2 gummies 3 times daily if needed. After 2 weeks you can adapt to your personal needs. 
Ingredients:
Ingredients: CBD Isolate (novel foods safe), Sugar, Corn Syrup, White Grape Juice from Concentrate, Gelatin, Citric Acid, Natural and Artificial Flavours, Carnauba Wax, Artificial Colours
CBD content 11.58mg per gummie.
THC content <0.01% 
DISCLAIMER:
Products sold on this website are food supplements only, They are not intended to diagnose, cure or prevent any disease, We recommend that you seek the advice of a medical professional before using any products.
Simple-CBD Joyces Farm Trading Ltd, Joyces Farm, Southminster Road, Mayland, Essex, CM3 6EB, United Kingdom