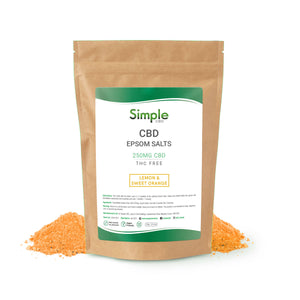 Lemon & Sweet Orange CBD Epsom Salts
销售价格 价格 £16.99 常规价格 £18.99 单价 / 单价
CBD Isolate THC Free Epsom Salts 250mg per pack. 
Instructions: Fill a bath with hot water, pour in 1-2 handfuls of the calming Epsom Salts. Relax and unwind while the epsom salt formulation moisturises and nourishes your skin. 1 handful = 1 serving  
Ingredients: CBD Isolate 250mg, Epsom Salts, Sea Salt, Essential Oils, Colouring.
All products shown on our website are not intended to diagnose, treat, cure or prevent any disease. For Adult use only. all of our products contain no THC
Simple-CBD Joyces Farm Trading Ltd, Joyces Farm, Southminster Road, Mayland, Essex, CM3 6EB, United Kingdom